Dear Frequent Flyers community,
35 years ago, our aerialists flew into the sky, bringing hearts to heights this mountain town had never seen. It was more than a performance, it was the beginning of a community. We didn't know it then, we were too young to really understand what we were launching, but since that day, we have transformed into an essential part of Boulder's art scene, lifestyle, identity, and heart.
During these 35 years of exploration and growth you have become an important piece of the Frequent Flyer's community.
We look back with profound gratitude as we look ahead to the next 35 years of artistic innovation. Frequent Flyers is a community rooted in art, movement, acceptance, inclusivity, and courage.
We are able to fly, all of us, because of what we've built together. Every person who has tried something new, left their comfort zone, perfected their skills, mastered a new art, witnessed the magic from the audience or given their time and money – becomes a part of something bigger than themselves.
That "something bigger" is turning 35 and we have a lot to celebrate!
– 46 Professional Training Program grads
– 50 Student Company Performances
– 25 Years of Aerial Dance Festivals and 100 ADF artists produced
– 145 Professional Company Performances
– 4000 ADF students
– 4500 square feet of training and rehearsal space
– 9000 Kids Who Fly served
– 18500 ADF audience members
– 21500 Students learning the joy of dancing in the air
– 206000 Audience Members
The best futures always require an investment. We're asking you to help nurture us by supporting 35 items for 35 years – to reach our goal of $35,000.
Scholarships for youth at risk, new computers, studio repairs, aerial equipment, artists' fees, costumes, "masking" for Studio 1 for our cabarets. To see the full list of items, please visit frequentflyers.org/35-items-for-35-years/..
Did you witness our magic from the stage?
Did you dare to try something new with us?
Did you support our Kids Who Fly or other programs?
Did you donate your valuable time and money?
With profound gratitude we celebrate with you 35 years of experience and excitement as we fly together into the future. Please consider contributing again to ensure our future and if this is your first time donating we welcome your support of any amount!
With gratitude and hope,
Nancy Smith
Founder/ Artistic Director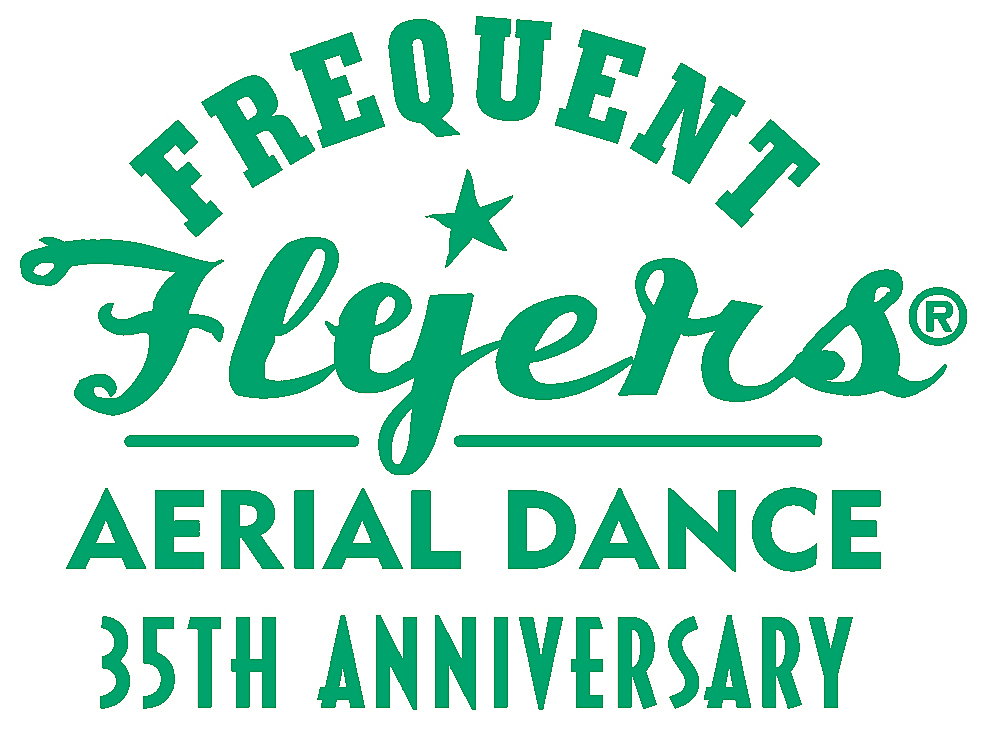 ---
35 Items for 35 Years
Refresh Frequent Flyers' Aerial Dance Studios: $8200
We've been in Studio 1 since 2010 and Studio 2 since 2015. There's definitely a lot of wear and tear!
Repair dance floor in Studio 1 = $500
Studio 2: lobby furniture, conference room furniture: $700
Recarpet both Studio 1 & 2 hallways and Studio 2 lobby: $2,000
Paint $5,000
(5 items)
Equipment: $6800
Help us provide safe, high-quality equipment for all our students!
4 kid size lyras $1200
1 invented apparatus $600
4 Mats $3000
2 corde lisse (ropes) $700
2 Wide slings: $150
3 rope / harness sets with full gear =

Grisgris x 3 + $300
Ascenders x 3 = $300
Harnesses $139 x 4 = $550
(16 items)
Computers: $1000
Many of our staff are using their personal computers! Help us upgrade our technology!
(3 items)
Scholarships: $10,000
Increase diversity, equity / access to our programs!
8 Scholarships: Kids Who Fly for youth / teens including Student Company = $10,000
(8 items)
Artists' Fees: $9,000
Support our Professional Company bring in a guest artist for our 35th Anniversary and for the 25th anniversary of the Aerial Dance Festival!
Professional Company: 1 artist collaborator fees: $4,000
Aerial Dance Festival: 2 guest artists' fees: $5,000
(3 items)